Companies DeskTop
The QuickBooks Companies menu items, on the statement editor, manages the connections to the QuickBooks DeskTop Organizations (Companies). The drop down menu items lists all of the Companies that have been added to the eClientLink editor. You may load an existing company by selecting it from the list.
To add a new QuickBooks company, select 'Connect to QuickBooks DeskTop from the Companies drop down menu.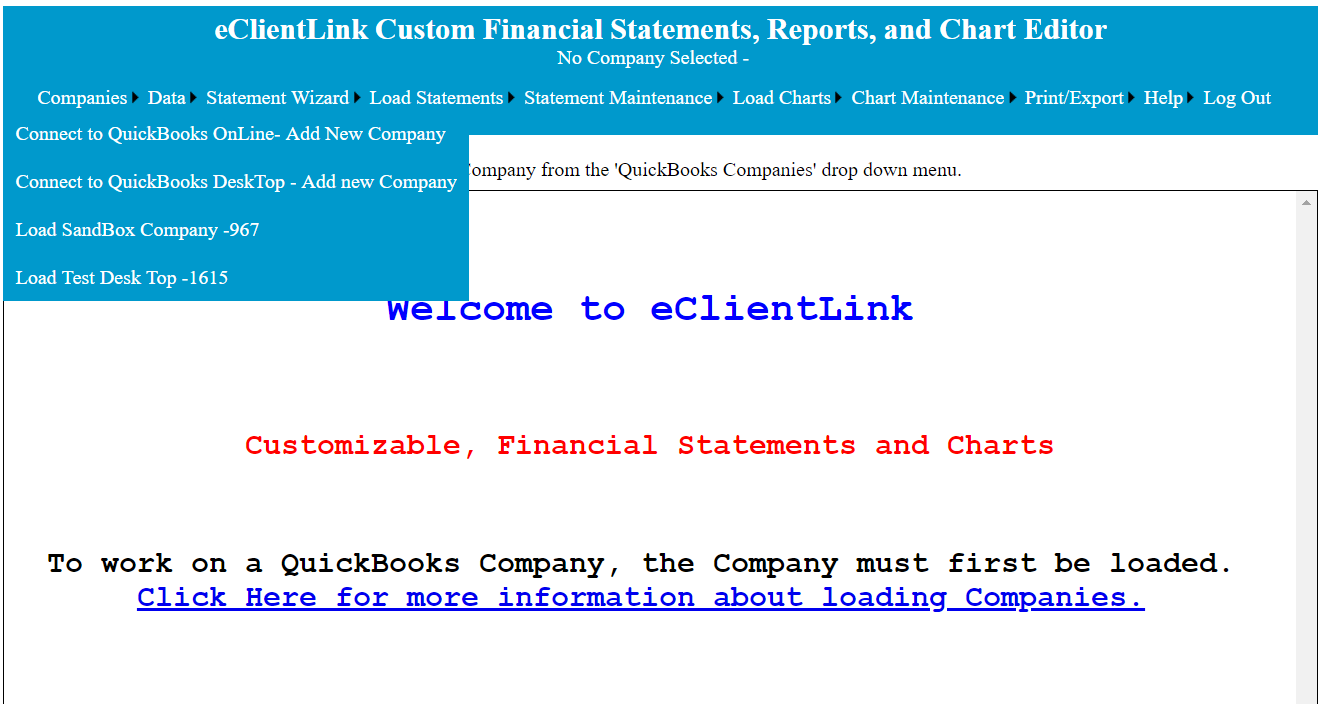 You will then be taken to the Web Connection Download page with detailed instruction. This page can be viewed HERE.
As part of the instructions, will be instruction on installing the QuikBook Web Connector. This software is required for our App to communicate with your QuickBooks file.
The QuickBooks Web Connector can be used with any QuickBooks Desktop product supported by the QuickBooks SDK or the QBPOS SDK, including:
U.S. editions of QuickBooks Financial Software products

QuickBooks Desktop Enterprise

QuickBooks Desktop Premier (2016 or later)

QuickBooks Desktop Pro (2016 or later)

U.S. QuickBooks Point of Sale (v13.0 or later)

Canadian editions of QuickBooks Pro, Premier or Enterprise (2016 or later)

UK editions of QuickBooks Pro or Accountant Edition (2016 or later)
Usually the Web Connector is installed when the QuickBooks program is installed. In the event it was not loaded, it can be downloaded. The program can be downloaded from https://quickbooks.intuit.com/community/Help-Articles/Set-up-QuickBooks-Web-Connector/m-p/185852.
If the connection to eClientLink fails to work, it is recommended that the Web Connector be reset and the procedure above be rerun. If this fails, please contact eClientLink support at support@eClientLink.com . For information on trouble shooting and/or resetting the Web Connector click here.
NOTE: Because of the type of connection to a QuickBooks DeskTop company, functions that require update from QuickBooks will take extended time to process. These include creation of new statements, exporting and updating statements to Excel and updating from the Trial Balance Maintenance page.